Taylor Carlington is a Journalism and Marketing Communications student at Emerson College who enjoys writing about social issues and pop culture.
Latest posts by Taylor Carlington (see all)
Unlike the judge, protestors and neighbors of Stanford rapist, Brock Turner are not letting him off easy.
Turner was a swimmer at Stanford University when two international students saw him sexually assaulting an unconscious girl behind a trash bin. Turner began to run when the two students attempted to stop him. He was apprehended and taken to police officers. The same day he was arrested he released with a $150,000 bail.
He was indicted on five charges, two of which were rape charges that prosecutors dropped and the others being felony sexual assault charges which he was found guilty of. The convictions had the potential of 14 years, but the judge sentenced him to six months probation and three years probation.
After three months in jail, Brock was released and went back to his hometown Sugarcreek Township, Ohio to live with his parents. Upon arriving home much earlier than scheduled many armed protesters took it upon themselves to make sure that everyone remembers exactly what Turner did.
The protesters have stated that they will not shoot him unless they see Turner "victimizing people." Among the signs of the protestors are phrases like "Shoot your local rapist" and "Castrate Rapists". As seen in the pictures they also wrote in chalk the same phrases with arrows pointing to Turner's house.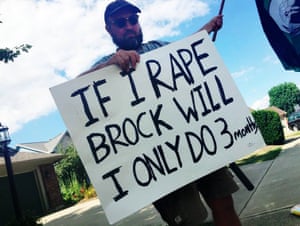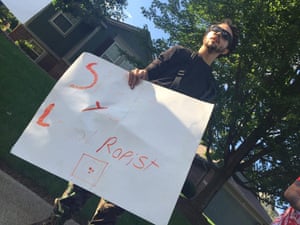 Turner's parent's house was also egged although many believe that people outside of the protesting group did it.
Many were understandably angered by Turner's obvious white privilege and how it related to how the case was handled.
Many Stanford students have also spoken out about how the case was handled by the school itself and the legal system. Many were further outraged by Turner's father, Dan Turner penning a letter about how the incident affected his son, many find the letter and phrasing itself to be disgusting.
https://twitter.com/laurenduca/status/739505679635992577/photo/1?ref_src=twsrc%5Etfw
Turner is also a recently registered sex offender.